La Collina dei Melograni (The Pomegranate Hill) was born from a dream of its owner, Mario Promontorio. Born and raised in Rome in 1962, he has always had a passion for nature and the rediscovery of the countryside, which he considers the focal point for the rebirth of society.
The property, approximately 10 hectares in size, was purchased in 2014, and with great commitment, it was first completely reclaimed from both an environmental and construction point of view. Subsequently, the destination was converted to fruit cultivation.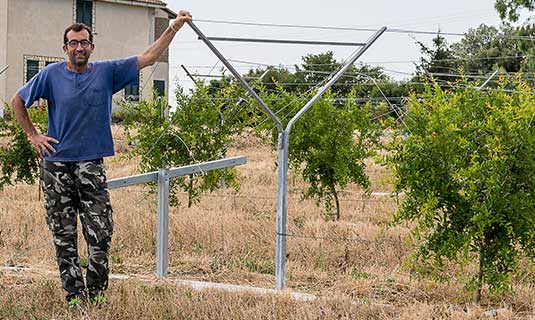 The company aims for a fully eco-sustainable future, including from an energy perspective. This starts with organic farming, ensuring genuine cultivation for humans and respect for nature, leading consumers to rediscover the authentic flavors of the land.
Our company is managed by a family with a keen eye for detail in every aspect. It was designed through the complete restoration of the previous structure and personally overseen by the owner, who, faithful to his ideal of caring for others, took personal responsibility for the plantation.
We strongly believe that we can leave a better world by utilizing the Earth's resources in a balanced, respectful, and harmonious way. This is why we have chosen to adhere to organic methods, which undoubtedly require a significant investment of resources, both in terms of finances and time compared to conventional farming. However, in return, it provides the satisfaction of knowing that we have done good for the planet.